By ICS Correspondant Andie Deutschle
With the 2017 College Soccer just a few days away, there are certain players that can either make or break their team this year. While they don't quite have the weight of the world on their shoulders, they still have a big role to fill in their team- some stopping goals, assisting goals, and others scoring them. Here's my list of the top five players to watch this season- if I'm right they'll be doing some amazing things for their teams.
5) Bridgette Andrzejewski. This forward from the University of North Carolina has already made a name for herself as she prepares to enter her sophomore year. As a freshman, Andrzejewski started 21 games, finding the back of the net 9 times along with 2 assists, gaining 20 points. UNC describes her as "a rocket ship, her acceleration and speed is world class"- and it's true. Anyone who has watched this player is more than aware of her fast pace and her ability to get behind the oppositions defense. She'll be determined to be a regular starter this season, and if her freshman year is any indication of this year, I predict we'll be seeing more of Andrzejewski.
4) Joanna Boyles. Teammate to Andrzejewski, this midfielder from The University of North Carolina has had 3 incredible seasons so far, and she'll be excited to start the new season in a few weeks. Coming back from an ACL tearing, this redshirt senior has 8 goals and 2 assists in her 37 games started at UNC. She's been named as the most gifted player by her coach, along with being "ranked right up there with the Tobin Heaths and Meghan Klingenbergs." In her junior year alone, Boyles won the 2015 second-team All ACC selection, third-team NSCAA All-Southeast Region selection, and the 2015-16 ACC Academic Team for Women's Soccer. Boyles will be looking to come out this season stronger than ever from her ACL tear, and she'll be thirsty to get her starting position back.
3) Kaylie Collins. I'm taking a big risk on adding her name to this list, as she's only a freshman at the University of Southern California. While she hasn't had any college games, she's been keeping herself busy with her high school team and the National Team. Collins was a member of the U.S. U-14 and U-15 team, being named to Top Drawer Top 10 Goalkeepers for 2016. She was a 4 year varsity starter for her high school, also being named to the Top Drawer Soccer High School All-American Second Team in 2015. While she hasn't played any college games in goal, she still has earned her right to be on this list. She'll be looking to become the starting goalie for USC, and she possesses the drive to become their #1.
2) Jessie Fleming. People who follow Canadian Soccer probably aren't surprised to see this midfielders name on the list. Only a sophomore at University of California, Los Angeles, Fleming already has 45 appearances and 4 goals on the Canada National Team, along with juggling her soccer career at UCLA. This explosive midfielder has 11 goals, 5 assists, and 27 points all in her freshman year. NSCAA Third-Team All American, Top Drawer Soccer's Freshman of the Year, UCLA's leading scorer last season, First Team NSCAA All-Pacific Region, along with having a Gold Medal from Canada's 2016 Algarve Cup are all incredibly impressive, but even more so knowing she's only 19. I, along with any fan of women's soccer, can't wait to see what she brings to the table this season for UCLA.
1) Savannah McCaskill. Arguably the most skilled forward on this list, McCaskill has an extraordinary 32 goals and 25 assists in only 69 games played. In her freshman year, she tied the team lead with 15 points, finding the back of the net 5 times and dishing out 5 assists. McCaskill is in the South Carolina record book 30 times for shots, shots on goal, points, goals, assists, game-winning goals, game-winning assists, and the list can continue on until it's longer than this article. McCaskill definitely has the talent to graduate from South Carolina and move into her professional career, and I'll be ready to write more articles on her when she does make that jump. If she continues to play similarly to her first three years, South Carolina will need to invest in a larger record book for her alone.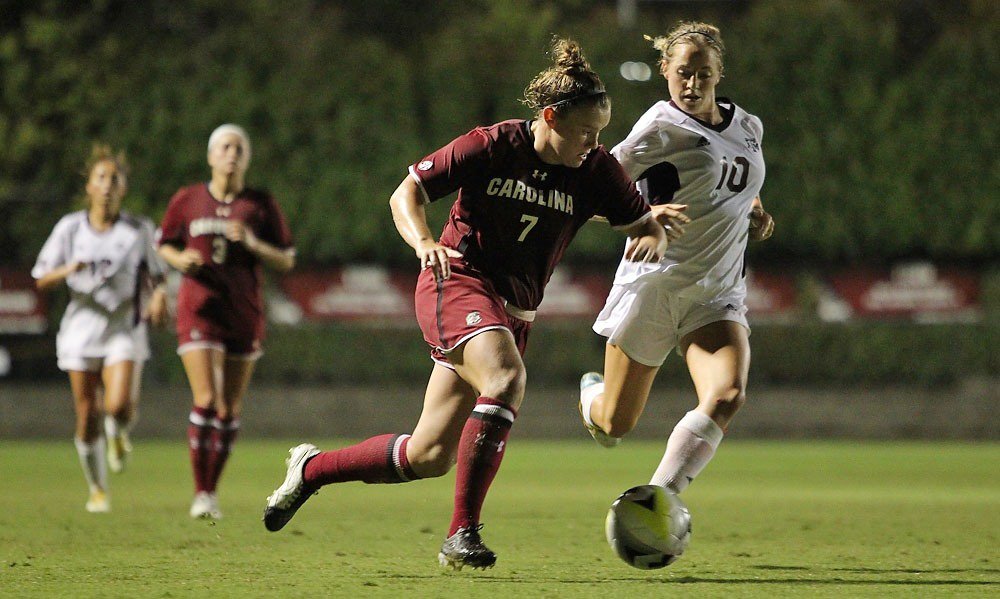 While I think these 5 players will bring something special to each of their teams this year, not every amazing player made this list. Regardless, any fan of college soccer should be excited to what these players are going to bring to the table this season- whether it be scoring goals, stopping them, or making new records every game. With these players in the mix, I think we're all in for an unbelievable season of 2017 College Soccer.
Andie Deutschle